Like a Biblical swarm of 8pt locusts on paper, Sage's deftness with the English language looks like the biggest bag of chocolates you've ever seen to a girl who spends her days and night with black fingers, tongue out over a page of ink.

Alliteration, the glorious pun, oxymoron, onomatopeia, contranym / acronym, palindrome and homograph - they're all there for the taking, whether simply spoken, or set to the beats of his monstrously talented collaborators.


Sage has released 9 albums and toured the entire hip-hop speaking world. He's currently writing the soundtrack to 'Pride and Glory', starring Ed Norton and Jon Voigt. And running his label, Strange Famous Records. And co-running Knowmore, Corporate Watch Project. And ...

His new album 'Human The Death Dance', featuring the killer creative team of Inkymole, photographer Anthony Saint James, designer Irena Andreic and Drew Speziale, is released on May 8th 2007, followed by a huge US tour. The New York showing of this exhibition has been timed to coincide with this event, and celebrate the creative relationship formed during the making of the artwork.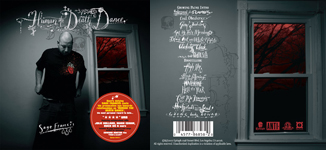 Sage's music will be on listening posts at the show.